FOR IMMEDIATE RELEASE
CONTACT
Tara Brown
tara.brown@inspfilms.com
803.448.2698
HERITAGE FALLS EARNS SEAL OF APPROVAL
INSP Films is awarded the Seal of Approval by Parents Television Council TM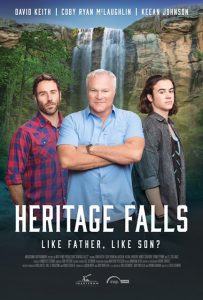 (Indian Land, SC – October 11, 2016) – INSP Films, a producer of family-friendly and wholesome movies, has been awarded the prestigious "Seal of Approval" from the Parents Television Council TM (PTC) for its latest film, the dramatic comedy Heritage Falls.  The announcement was made by Gary Wheeler, VP of Original Films at INSP Films.
Heritage Falls stars David Keith (An Officer and a Gentleman, CSI: Miami, Hawaii Five-0), Coby Ryan McLaughlin (Castle, Parenthood, Graceland), and Keean Johnson (Nashville, The Fosters, Switched at Birth) as three generations of headstrong males who venture into the wilderness for a weekend excursion to repair their fractured relationships.  The movie has been licensed to INSP for the worldwide television debut on Sunday, October 16th at 8PM ET.
"When you are charged with making movies that can be watched and enjoyed by the entire family, it is rewarding when an organization as respected as the PTC gives you their 'Seal of Approval,'" said Wheeler.  "At screenings of the movie last month, audiences were enthusiastic in their support; and this honor from the PTC underscores and affirms that audience reaction.  We are always appreciative of the encouragement, and look forward to creating more movies that will continue to resonate with families across the country."
Christopher Gildemeister, Head of Research Operations for PTC, had this to say: "Heritage Falls deals forthrightly and sensitively with the differences that fathers and sons can have with one another, and how they can learn to come together as men with mutual respect and love. Because of its emphasis on building understanding and family, the Parents Television Council is proud to award Heritage Falls with the PTC Seal of Approval®. The PTC recommends this movie for viewers of all ages."
The PTC "Seal of Approval" is presented to outstanding DVDs, films, television shows, advertisers and networks that emphasize positive, pro-family values and do not contain graphic or gratuitous sex, violence or profanity.
Heritage Falls is produced by INSP Films and distributed by Imagicomm Entertainment.  To learn more, visit www.heritagefallsmovie.com.
###
About INSP Films
INSP Films is a theatrical motion picture production company owned by television network INSP.  Founded in 2015, it produces films that are inspiring, heartwarming and family-friendly.
About The Parents Television Council 
The Parents Television Council® (www.parentstv.org®) is a non-partisan education organization advocating responsible entertainment. It was founded in 1995 to ensure that children are not constantly assaulted by sex, violence and profanity on television and in other media. This national grassroots organization has more than 1.4 million members, and works with television producers, broadcasters, networks and sponsors in an effort to stem the flow of harmful and negative messages targeted to children. The PTC™ also works with elected and appointed government officials to enforce broadcast decency standards. Most importantly, the PTC produces critical research and publications documenting the dramatic increase in sex, violence and profanity in entertainment. This information is provided free of charge so parents can make informed viewing choices for their own families. Visit the new PTC Watchdog Blog at http://www.parentstv.org/blog/. Follow the PTC on Twitter: @ThePTC.