FOR IMMEDIATE RELEASE

Contact: Tara Brown
tara.brown@inspfilms.com
803-448-2698
The latest movie produced by INSP Films will make its debut on INSP on Sunday, November 25th at 8:00PM ET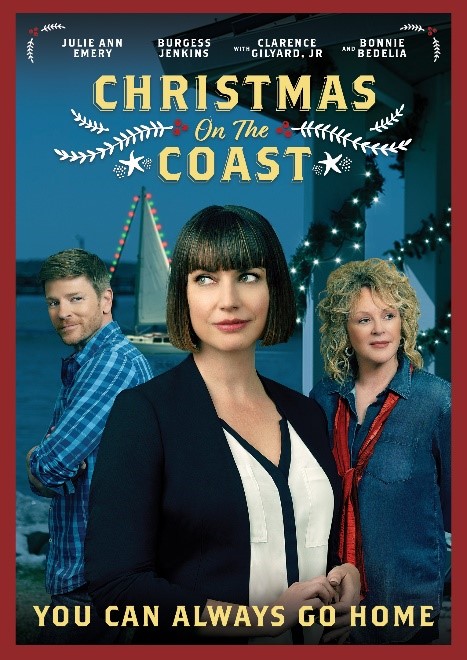 (Indian Land, SC – September 25, 2018) – General entertainment television network INSP has announced the network television broadcast schedule for  Christmas on the Coast, a refreshing new holiday movie that will keep you smiling, starring Julie Ann Emery (Better Call Saul, Fargo, Major Crimes), Burgess Jenkins (Remember the Titans, Nashville, Army Wives) and veteran actors Bonnie Bedelia(Parenthood, Die Hard, The Division) and Clarence Gilyard Jr. (Walker, Texas Ranger, Matlock, Top Gun). The latest Christmas movie from INSP Films will air on INSP on Sunday, November 25th at 8:00PM and again on December 24th at 8:00PM.  Doug Butts, SVP of Programming at INSP, made the announcement.
"Nothing marks the holiday season better than watching a wonderfully produced Christmas movie," said Butts.  "Christmas on the Coast is a fun movie for all ages, so INSP plans to air it twice this Christmas season, beginning on the Sunday following Thanksgiving. This film celebrates family and community; and reminds us that forgiveness is always possible whenever unconditional love and support are present.  This new feature delivers solid performances by an all-star cast and their chemistry is undeniable."
In the tradition of "You've Got Mail" and "Sweet Home Alabama," Christmas on the Coast tells the story of tough and cynical New York celebrity novelist Drucinda "Dru" Cassadine (Emery), who is famous for romance stories but is desperate after a string of flops. With her publisher about to drop her, she has just weeks to turn out a best seller. To spark her creativity, Dru retreats to her childhood home on the ocean for the holidays. As the coastal town prepares for Christmas, Dru struggles to write while a flood of emotions come over her. When handsome local widower Brysen Flynn enters her life, raw fiction turns to real romance on the Southern shore…with an unexpected twist no one saw coming.
Christmas on the Coast is produced by INSP Films and distributed by Imagicomm Entertainment.  Gary Wheeler (War Room, The Trial, Christmas in the Smokies) and Jason White (Christmas in the Smokies, Heritage Falls, County Line) serve as producers.  The movie has been licensed to general entertainment television network INSPfor the network premiere on Sunday, November 25th at 8PM ET.  For additional information, visit https://christmasonthecoastmovie.com/.
###
About INSP
INSP is available nationwide to more than 81M households via Dish Network (channel 259), DirecTV (channel 364), Verizon FiOS (channel 286), AT&T U-verse (channel 564) and more than 2,800 cable systems.  Click here to find INSP in your area. For exclusive series, timeless Westerns, action-filled dramas and films focused on adventure and heroic characters, its INSP.
About INSP Films
INSP Films is committed to create movies and other projects united by strong entertainment values, compelling stories, and memorable characters. Content embraces a wide variety of genres, ranging from drama and Westerns to modern romance and family fare. Motion pictures produced by INSP Films are distributed by Imagicomm Entertainment through select theaters, popular streaming platforms such as Amazon Prime and Netflix, DVDs through major retailers, as well as through traditional television outlets (including INSP Films' parent company, general entertainment television network INSP, LLC).