FOR IMMEDIATE RELEASE

Contact: Tara Brown
tara.brown@inspfilms.com
803-448-2698
The Action Drama County Line will make its television debut on INSP on Saturday, May 5th at 8:00PM ET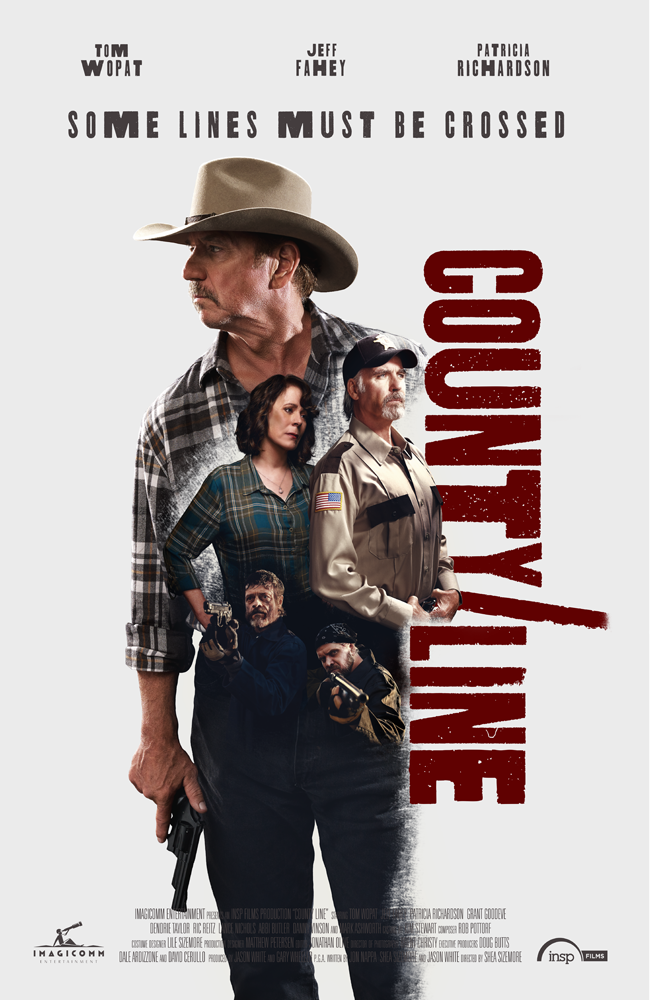 (Indian Land, SC – February 20, 2018) – Doug Butts, SVP of Programming for general entertainment network INSP, announced today that INSP Films' latest movie, County Line, will premiere exclusively on the INSP television network on Saturday, May 5th at 8:00PM ET.
"We are excited about having the opportunity to debut County Line on INSP this spring," said Butts.  "The loyal viewers who have come to rely on INSP to deliver classic westerns like Gunsmoke and Bonanza will really enjoy County Line, as it is a crime drama with a western feel.  It is a fast paced movie that features a veteran cast who deliver great performances.  Viewers will love the unexpected twists and surprise ending."
County Line stars Tom Wopat (The Dukes of Hazzard, Longmire, Django Unchained) as Alden Rockwell, a former sheriff who is left with many questions and no answers when his best friend and neighboring county sheriff, Clint Thorne, played by Jeff Fahey (Texas Rising, Justified, Lost, Under the Dome), is brutally gunned down. After the investigation stalls and Alden's replacement, Sheriff Preston (Grant Goodeve – Eight is Enough, Dynasty, Twin Peaks) turns a blind eye, Alden takes the case into his own hands.
Also starring in County Line are Patricia Richardson, (Last Man Standing, Home Improvement, The West Wing) as local diner owner, Maddie Hall; and Dendrie Taylor (Saving Mr. Banks, Out of the Furnace, True Blood) who plays Clint's straightforward and no nonsense wife Jordan.
County Line is produced by INSP Films and distributed by Imagicomm Entertainment.
For additional information, please visit www.countylinemovie.com.
###
About INSP
INSP is available nationwide to more than 81M households via Dish Network (channel 259), DirecTV (channel 364), Verizon FiOS (channel 286), AT&T U-verse (channel 564) and more than 2,800 cable systems.  Click here to find INSP in your area. For positive entertainment that celebrates the American spirit and honors timeless values, it's INSP.