FOR IMMEDIATE RELEASE
August 11, 2016
Contact: Tara Brown
tara.brown@inspfilms.com
803-448-2698
Our Town Cinemas to Host National Premiere of  "Heritage Falls"
The Dramatic Comedy Starring David Keith, Coby Ryan McLaughlin, and Keean Johnson Premieres in Davidson, NC on Friday, September 2nd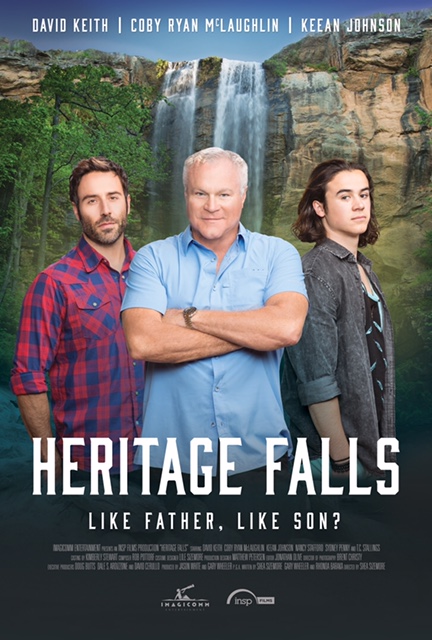 Indian Land, SC–INSP Films once again has set its sights on Davidson for the theatrical release of its newest feature, Heritage Falls.  The film, which stars David Keith (An Officer and a Gentleman, CSI: Miami, Hawaii Five-0), Coby Ryan McLaughlin (Castle, Parenthood, Graceland), and Keean Johnson (Nashville, The Fosters, Switched at Birth) will debut in Davidson, NC on Friday, September 2nd.  The announcement was made by Gary Wheeler, VP of INSP Films.
"Heritage Falls is the first of our films to primarily feature male actors in the lead roles," says Wheeler.  "We wanted to create an inspiring story that encourages fathers to build relationships with their sons and for families to work toward long-lasting connections. The film showcases the often misunderstood relationships within a family and the struggles between generations, while also exploring ways to honor and learn from those around us. Often, these types of story arcs are told from the perspective of a female protagonist, but we wanted to hear how men work through their challenges and conflicts.  But also how they struggle with their own identity and purpose.   To help us do this, we have assembled a great cast that includes a venerable veteran actor, another in the prime of his career, and a relative newcomer.  Each brings an authenticity to their roles in a way that is transformative, and reminds audiences that above all, there is nothing more important than family."
Heritage Falls is a dramatic comedy that follows three generations of headstrong males as they venture into the American wilderness for a rugged weekend excursion.  The eldest, family patriarch Charlie Fitzpatrick (Keith) is the most celebrated high school basketball coach in Georgia history.  Although he is seen as a father figure to many of his players, his adult son Evan (McLaughlin) does not share local sentiment.  In an effort to mend their relationship, Charlie plans a rustic mountain trip retreat for he, Evan, and Evan's son, Markie (Johnson).  What follows is a touching and humorous adventure that showcases the trials and triumphs of dramatically different family members as they are forced to come to terms with longstanding differences.
Heritage Falls is produced by INSP Films and distributed by Imagicomm Entertainment.  The film was written by Shea Sizemore (Not Forgotten, A Sailor's Song), Rhonda Baraka (Pastor Brown, Love Under New Management: The Miki Howard Story), and Gary Wheeler (War Room; Savannah Sunrise).  The producers are Gary Wheeler and Jason White.  David Cerullo, Dale Ardizzone and Doug Butts are the executive producers.
###
About INSP Films
INSP Films is a theatrical motion picture production company owned by television network INSP.  Founded in 2015, it produces films that are inspiring, heartwarming and family-friendly.